Animal Essentials Fish Oil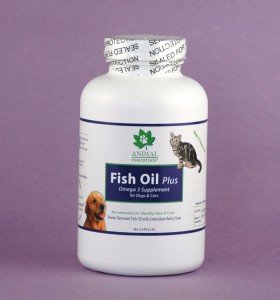 Animal Essentials Fish Oil
Fish Oil Plus
Freshness locked Omega 3's in a convenient soft gel capsule, GREAT FOR TRAVEL! Our Essential Fatty Acids soft gel supplement has changed. It is now called Fish Oil Plus and is better than ever!

Higher in Omega 3 fatty acids than other brands, and three times more than even our old soft gel formula!? Richer in bioavailable DHA & EPA than salmon oil and most other fish oils!
Clean and Green! Our new product uses ecologically-sustainable fish oil, derived from wild caught sardines, mackerel and anchovies. Because these types of smaller fishes are relatively short-lived and travel large expanses of ocean, their meat and oil is generally lower in PCBs, mercury, and other contaminants than that of larger, carnivorous fishes such as tuna or wild salmon!
Tested for purity by human food industry standards, against heavy metals, PCBs and other contaminants.
Fortified with antioxidant Barley Grass--- a green "superfood"
Super convenient, Freshness locked "fishy Twist tail" soft gels. Extended shelf life, easy to feed, and no mess! Great for Travel!
A Better Source of Omega 3 Fatty Acids… As many of you already know, wild caught fish oils serve as the best sources of Omega 3 fatty acids for dogs and cats. While flax oil is also rich in Omega 3s, it is not a complete source. Why? Because theAlpha-linolenic acid, (ALA) in flax oil does not convert to docosahexaenoic acid (DHA) at levels that confer any physiological benefit--- and studies show that EPA conversion is deficient too. Plus, most holistic veterinarians agree that dogs, cats and other carnivores are naturally set up to metabolize most of the essential fatty acids they need from meats and animal fats--- not from vegetable oils.

A Higher Concentration of Healthful Omega 3 Fatty Acids…
Many of our customers have been demanding higher concentrations of Omega 3 fatty acids for their pets. Omega 3 fatty acids play critical roles in the regulation of inflammation throughout the body. Omega 6 fatty acids on the other hand, which are typically found in vegetable oils or in the meats of animals that consume primarily grains before slaughter, serve to initiate inflammation. While both sides of this 3+6 equation are necessary to counterbalance the natural inflammatory functions of the immune system, most animals already receive most of the Omega 6s they need from their diets, meaning their stronger supplemental needs rest with Omega 3 fatty acids.
Our new "Fish Oil Plus" formula offers a 3:1 mix (3 parts Omega 3 to 1 part Omega 6). This is much better for a wider range of animals that suffer flea allergies and chronic skin problems.

Freshness-locked Soft Gel Capsule!
Reviews