Animal Essentials Fidoderm spray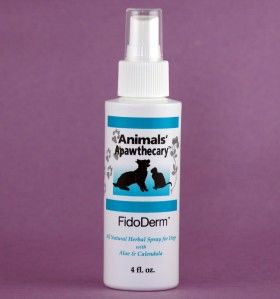 Animal Essentials Fidoderm spray
All Natural Herbal spot application spray for dogs and horses, with aloe & calendula. Provides soothing, healing relief from flea and Insect bites, hot spots, sunburn, brasions, and other irritants of the skin. Made with the finest aromatherapy (human) grade essential oils and herbal extracts.

Safe, effective, smells great, and highly concentrated... just back brush the coat and lightly mist affected areas. A 4 oz bottle lasts and lasts!

Contains: Distilled water, aloe vera juice, calendula extract and essential oils of lavender, tea tree, and carrot seed.
4 oz. Spray
Reviews