Barkworthies Bully Stick Bully Bites 12 oz. package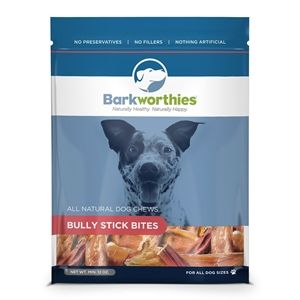 Barkworthies Bully Stick Bully Bites 12 oz. package
Bully Stick - Bully Bites (Net Wt. Min. 12 oz. SURP)
Barkworthies Bully Bites offer all of the quality of our standard bully sticks – in a treat-sized 12 oz. pouch!
Barkworthies Bully Bites offer all the flavor and consistency of our Standard Bully Sticks, but in a perfect bite size. They come packed in a handy, treat-sized 12 oz. pouch.
A suitable chew for small to large breeds at any stage of life, our Bully Bites are crafted from USDA & FDA inspected & approved, free-range cattle. They're 100% digestible, making them a great alternative to traditional rawhide.
Plus, their unique shape and texture promotes good dental health while helping prevent bad doggy breath. Please note that this product is not for human consumption. Please supervise your pet while giving a treat or chew.
As with all our products, these bite-sized bullies are free of additives, chemicals and preservatives. In fact, most Barkworthies products are single-ingredient chews, making them 100% healthy and safe.
Reviews