Barkworthies Chicken Necks 1lb. package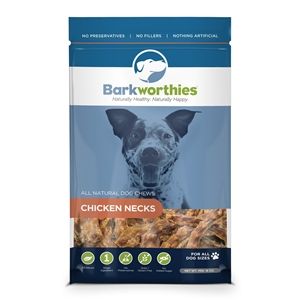 Barkworthies Chicken Necks 1lb. package
Chicken Necks (Net Wt. Min. 16 oz. SURP)
Barkworthies Chicken Necks are healthy, all-natural, and the perfect size for any dog!
100% digestible, Barkworthies Chicken Necks (1 lb.) are a great way to give your dog an all-natural, safe dog chew. Their size and crunchy texture makes them an ideal treat or chew for any pup. And they come in a one pound value bag!
Through gnawing action while chewing, our Chicken Necks promote dental health and help prevent bad doggy breath. This single ingredient product is made from free-range chicken. Please note that these treats are not for human consumption. Please supervise your pet when feeding chews or treats.
As with all Barkworthies products, our Chicken Necks are additive free, chemical free and preservative free. Moreover, most Barkworthies products are single-ingredient chews, which means they're 100% healthy and safe.
Reviews