Barkworthies Cow Tail Mega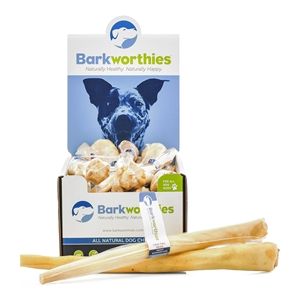 Barkworthies Cow Tail Mega
Cow Tail - Mega
Barkworthies Mega Cow's Tail is a THICK crunchy-chewy treat great for dogs with a BIG appetite!
Barkworthies Mega Cow's Tail is a massive, thick chew perfect for large dogs with large appetites. Cut from the base of the cow's tail, it starts crunchy then becomes chewy, so your dog won't get bored during chew time!

The Barkworthies Mega Cow's Tail is 100% digestible, and the texture helps scrub away tartar, making it great for the oral health of your dog. This is an all-natural product produced from free-range grass-fed cattle. Please note that this product is not for human consumption. Please supervise your pet while giving a treat or chew.

As with all of our products, this chew is additive, chemical, and preserevative-free. Moreover, most Barkworthies products are single-ingredient chews, making them 100% healthy & 100% safe. Not for human consumption.
Reviews