Barkworthies Crocodile Bones 5oz. package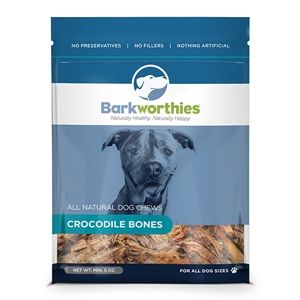 Barkworthies Crocodile Bones 5oz. package
Crocodile Bones (Net Wt. Min. 05 oz. SURP)
Barkworthies Crocodile Bones are tasty dog chews made from all-natural crocodile.
Barkworthies Crocodile Bones are all-natural chews made from all-natural crocodile raised without antibiotics or hormones. A great alternative to pork, beef and chicken, these tasty treats are high in antioxidants. Unlike traditional rawhide which may cause intestinal blockage if swallowed, they're also fully digestible.
Our Crocodile Bones are loaded with lots of other benefits for your intrepid pet. An all-natural source of glucosamine and chondroitin, these chews can help with joint and mobility issues. They're a wonderful source of Omega 3 & 6 fatty acids with immune boosting properties. The chewing action while consuming our Crocodile Bones also helps prevent tartar buildup and promotes healthy teeth and gums. Please note that this product is not for human consumption. Please supervise your pet while giving a treat or chew.
As with all of our products, Barkworthies Crocodile Bones are additive-free, chemical-free and preservative-free. Moreover, most Barkworthies products are all-natural, single-ingredient chews, which means they're 100% healthy and safe.
Reviews