Barkworthies Pretzel Bully Stick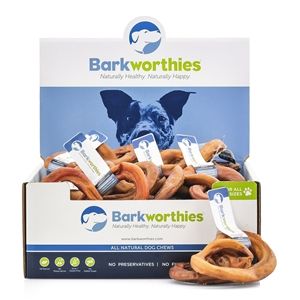 Barkworthies Pretzel Bully Stick
Bully Stick - Pretzel
Meet Barkworthies All-Natural Bully Stick Pretzel – one of Fido's favorite treats with a twist!
Barkworthies All-Natural Bully Stick Pretzel is a great way to give Fido a great snack! We've taken our wholesome foot-long bully stick and twisted it into a challenging, long-lasting shape your dog will love. These twisty, tasty, all-natural chews are sourced from 100% free-range, grass-fed beef.
The textured, curvy surface of these chews will give your dog's teeth and gums a great workout. Bully Sticks naturally scrub tartar and plaque with every chomp, promoting good dental healthy while helping prevent bad doggy breath. Please note that this product is not for human consumption. Please supervise your pet while giving a treat or chew.
As with all of our products, Barkworthies Bully Stick Pretzels are free of additives, chemicals and preservatives. Moreover, most Barkworthies products are single-ingredient chews, which means they're 100% healthy and safe.
Reviews