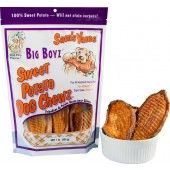 Sam's Yams Big Boys 1lb.
Big Boyz® are made with very thick slabs of ridged sweet potato and dehydrated. These are designed for larger breeds, but smaller dogs will enjoy them as well and they will last a good long time. Each chew has the nutritional value of half a large sweet potato. Big Boyz®are available in 1 lb. resealable bags. Made from 100% sweet potato, Sam's Yams ®are totally digestible and are an excellent nutritional chew, far superior to other health treats in any nutritional comparison. We use only water in our processing. Nothing else.

Top Five Reasons Sam's Yams Beat Rawhide

Eliminates fears of Rawhide impaction or throat lodging.

Dogs universally love the flavor of sweet potatoes.

Hardness and Patent Pending design helps clean teeth and gums.

Will NOT STAIN carpets - No four odors.

No highly processed anyting, such as wheat gluten, corn, plastics, polymers, animal by-products, animal digest or rendered animal meat or fat. Just a pure food - Sweet Potato.

Why Sweet Potatoes? They are ranked the #1 vegetable. Giving your dog sweet potato chews helps meet the recommended 35% vegetable and fruit in the canine diet. Sweet Potatoes are an excellent source of Vitamin A. They are low in callories - and hight in Anit-Oxidants. They are high in fiber which dramatically improves digestions. Sweet Potatoes are loaded with nutrients your dog needs such as Vitamins A, B6, Calcium, Potassium, Phosphorus, Iron, Thiamin, Riboflavin and Niacin.

Our Patent Pending process creates a hard, ridged, grooved surface. It's great for dental health and has the chewability dogs enjoy. All Sam's Yams® are particularly well-suited for senior dogs whose teeth and gums are more sensitive.
Reviews