Sam's Yams Veggie Rawhide 14 oz.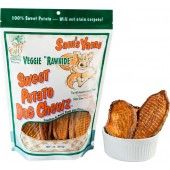 Sam's Yams Veggie Rawhide 14 oz.
Veggie Rawhide® chews are an excellent chew for dogs of all sizes. They are made of whole thick slabs of dehydrated sweet potato and are generally 1/4 thick. These chews have our standard hard ridged surface.
Made from 100% sweet potato, Sam's Yams ® are totally digestible and are an excellent nutritional chew, far superior to other health treats in any nutritional comparison. We use only water in our processing. Nothing else.
Our Patent Pending process creates a hard, ridged, grooved surface. It's great for dental health and has the chewability dogs enjoy. All Sam's Yams® are particularly well-suited for senior dogs whose teeth and gums are more sensitive.
14 oz.
Reviews