Grandma Lucy's Artisan Lamb Grain-Free Dog Food 3 lb.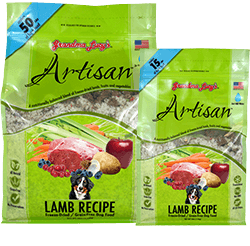 Grandma Lucy's Artisan Lamb Grain-Free Dog Food 3 lb.
At Grandma Lucy's our goal has always been a basic one – to make pure and simple pet food products. We do things the same way you would if you had the time to cook for your pet. We take care to use only the finest, all-natural ingredients and nothing else. Since 1999, Grandma Lucy's has maintained a reputation for making the best pet food and treats and we are constantly developing new products packed with leading-edge nutrition. This is why when you choose Grandma Lucy's Freeze-Dried, Grain-Free Pet Food you know you are making the best choice for your pet.
USDA Lamb, Potatoes, Flax, Carrots, Celery, Apples, Blueberries, Cranberries, Garlic, Vitamin A, Vitamin D3, Vitamin E, Niacin, Iron, Calcium, Phosphorus, Zinc, Riboflavin, Thiamin, Potassium, Manganese, Chloride, Copper, Magnesium, Pyridoxine, Cyanocobalamin.
Our products do not include any meat meals or by-products, only whole food ingredients you would eat yourself.
Crude Protein (min): 26%
Crude Fat (min): 14%
Crude Fiber (max): 8%
Moisture (max): 7.6%
Calcium (min): 1.2%
Phosphorus (min): 1%
Magnesium (max): 0.16%
3994 kcal/kg (calculated)
453 kcal/cup (calculated)
3lb bag makes up to 15 lbs of fresh food
10lb bag makes up to 50 lbs of fresh food
Complete and Balanced for All Life Stages.
Grandma Lucy's Artisan™ Lamb Recipe is formulated to meet the nutritional levels established by the AAFCO Dog Food Nutrient Profiles for All Life Stages.
For each cup of Artisan™ Lamb
add 1 – 2 cups of warm water.
Stir well and rehydrate for 3 minutes.
After 3 minutes, food may be consumed. Leftover food may be refrigerated for up to 48 hours
The suggested daily amounts should be adjusted to suit your own dog's unique nutritional requirements and appetite, which may vary according to age and level of activity. Keep fresh water available at all times.
At Grandma Lucy's we use the finest USDA Inspected and Approved ingredients from trusted suppliers around the world. 87% of our ingredients are sourced domestically and we take great pride in supporting local restaurant suppliers in California. Our high standards and expectations will give you confidence that you are getting the best quality ingredients and products offered. To learn more about Grandma Lucy's ingredient sourcing click our ingredients map.
87% of our ingredients are sourced in the USA.
0% of our ingredients are sourced from China.
Reviews