Grandma Lucy's Valor Chicken Grain-Free Dog Food 3 lb.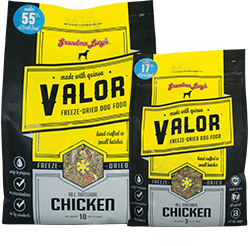 Grandma Lucy's Valor Chicken Grain-Free Dog Food 3 lb.
Valor™ is a bold food that has risen above the rest to bring pets a diet with only the top ingredients known to be some of the healthiest in the world. Quinoa is not a new food but actually a main staple of the ancient Inca diet. The United Nations termed 2013 the official International Year of Quinoa to celebrate this "SUPERFOOD" and all of its protein and nutrient rich characteristics. By blending our high-quality meat, fruits and vegetables with quinoa, Grandma Lucy's is proud to offer this highly nutritious super-PET-food, VALOR™.
USDA Chicken, Quinoa, Flax, Lentils, Carrots, Celery, Apples, Bananas, Blueberries, Cranberries, Pumpkin, Spinach, Garlic, Vitamin A, Vitamin D3, Vitamin E, Niacin, Iron, Calcium, Phosphorus, Zinc, Riboflavin, Thiamin, Potassium, Manganese, Chloride, Copper, Magnesium, Pyridoxine, Cyanocobalamin
Quinoa is termed one of the world's "superfoods" which contains all nine essential amino acids that cannot be made by the body and therefore must come from foods.
Crude Protein (min): 30%
Crude Fat (min): 16%
Crude Fiber (max): 5%
Moisture (max): 8%
Calcium (min): 1%
Phosphorus (min): 0.48%
Magnesium (max): 0.17%
4107 kcal/kg (calculated)
554 cal/cup (calculated)
3lb bag makes up to 17lbs of fresh food
10lb bag makes up to 55lbs of fresh food
Complete and Balanced for All Life Stages.
Grandma Lucy's Valor™ is formulated to meet the nutritional levels established by the AAFCO Dog Food Nutrient Profiles for All Life Stages.
For each cup of Valor™ Chicken add 1 – 1 1/2 cups of warm water.
Stir well and rehydrate for 3 minutes.
After 3 minutes, food may be consumed. Leftover food may be refrigerated for up to 48 hours.
The suggested daily amounts should be adjusted to suit your own dog's unique nutritional requirements and appetite, which may vary according to age and level of activity. Keep fresh water available at all times.
At Grandma Lucy's we use the finest USDA Inspected and Approved ingredients from trusted suppliers around the world. 87% of our ingredients are sourced domestically and we take great pride in supporting local restaurant suppliers in California. Our high standards and expectations will give you confidence that you are getting the best quality ingredients and products offered. To learn more about Grandma Lucy's ingredient sourcing click our ingredients map >
87% of our ingredients are sourced in the USA.
0% of our ingredients are sourced from China.
Reviews