Happy Hempies Stress Support 30 ct.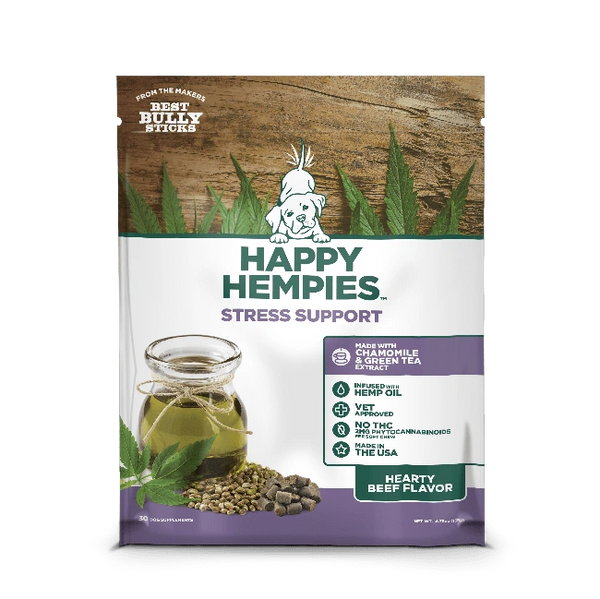 Happy Hempies Stress Support 30 ct.
STRESS SUPPORT
DOG SOFT CHEWS
The world can be a scary place for dogs! Take dog stress relief seriously and try our special Stress Support formula. When your pup gets anxious, help soothe them with this science-backed daily supplement that's even better than a day at the spa.
Happy Hempies uses full-spectrum hemp oil and hemp meal to provide calming health benefits unlike any other soft chew. With the power of hemp, chamomile, and green tea extract, our soft chews are carefully made to bring your pup peace of mind. Happy Hempies Stress Support soft chews are bite-sized, soothing, and have a hearty beef flavor your dog will adore.
ACTIVE INGREDIENTS
Hemp Meal: 100 mg
Chamomile (flower): 50 mg
Green Leaf Tea Extract (decaffeinated): 12 mg
Phytocannabinoids (from Hemp oil): 2 mg
DIRECTIONS FOR USE
Recommended serving: ½ soft chew per 10 lbs. of dog weight
For maximum effect, give twice daily, twelve hours apart
Keep package sealed and protected from light, heat and moisture
Reviews