Homeopet Digestive Upset Feline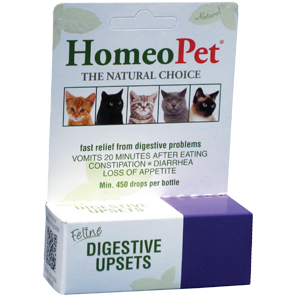 Homeopet Digestive Upset Feline
Homeopet Digestive Upset Feline
| | |
| --- | --- |
| * | Safe, gentle, natural drops support digestive health in cats |
| | |
| --- | --- |
| * | For kittens and cats of all ages - Made in the USA |
| | |
| --- | --- |
| * | Drops can be dosed directly into mouth, or added to water or food/treat |
Support your cat's healthy digestion with this gentle, natural formula. Feline Digestive Upsets by HomeoPet is for use in kittens and cats of all ages; it is made to support normal digestive comfort and balance during minor upsets. Contains Aconitum nap., Arsenicum alb., ipecac, and a host of other homeopathic ingredients. Made in the USA.
Directions:
| | |
| --- | --- |
| Pets | Dosage |
| Kittens under 1 lb | 2 drops, 3 times daily |
| Kittens over 1 lb | 5 drops, 3 times daily |
| Adults cats | 10 drops, 3 times daily |
May be dosed directly into mouth, in water or on food/treat. Only needs to be used when symptoms are present.
Ingredients: Aconitum nap 200c, Aloe, Arsenicum alb, Phos 6c, 30c, 200c, Carbo veg 6x, 6c, Chelidonium maj 4x, Chininum pur 30c, Ipecac, Phosphoricum ac, Podoph pelt, Veratrum album 6c, 30c, Lycopodium 10x, 30c, Merc solub 6c, Nux vom 8x, 6c, 200c, Sulphur 6x, 6c, 30c in 20% USP alc, in purified water.
When improvement is seen decrease frequency of dosing. If improvement is maintained, stop dosing after 2 days. If symptoms reappear, repeat the original dose.
Contact veterinarian if problems persist.
Reviews