Homeopet Digestive Upsets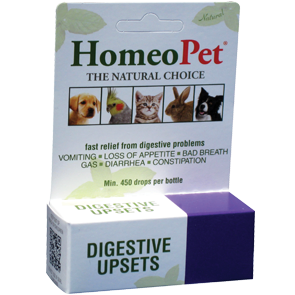 Homeopet Digestive Upsets
Homeopet Digestive Upsets

HomeoPet Digestive Upsets is used for gas, diarrhea, constipation and vomiting. It will also help relieve bad breath and repeated gas by cleansing the system. An excellent remedy for pets that vomit within 20 minutes after they eat their food.
HomeoPet is a product that is chemical free, safe for dogs, cats, birds, rabbits, hamster, ferrets and pot-bellied pigs of all ages. Manufactured under an FDA registered process. No known side effects from any of our products. Twelve years of researching only the very best ingredients from all over the world. All HomeoPet products are liquid and given internally.
Available in 15 ml in a 23 ml sized bottle.
Each 15 ml remedy comes in a 23 ml liquid dropper bottle and may be dosed directly into the mouth, in food/treat or in water/milk. There are approximately 350 - 375 drops per bottle. For a pet under 20 lbs/10 kg one bottle will last 3 - 4 weeks, dosing 3 times daily. For a pet 20 - 100 lbs/10 - 50 kg, one bottle will last 10 - 13 days at 3 doses daily.
Because HomeoPet ships their products internationally, they use 23 ml sized bottles for each 15 ml remedy so there is extra room in the bottle to accommodate product volume changes caused by temperature variations during shipping. Each bottle is filled with the standard product volume of 15 ml of the remedy, but the bottle may appear to be "half-full" because of its larger size
Reviews