Homeopet Skin & Itch Feline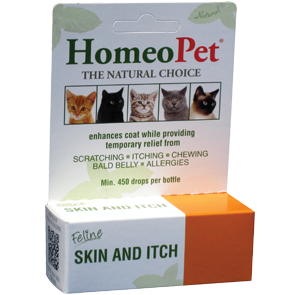 Homeopet Skin & Itch Feline
Homeopet Skin & Itch Feline

Get your cat a reason to purr with the HomeoPet Feline Skin & Itch Cat Supplement. Working to detoxify the skin from the inside out, this homeopathic liquid provides temporary relief to constant itching, scratching, gnawing, and hair loss caused by allergies. Drawing on hundreds of years of natural medicine therapy, the all-natural formula uses only the purest, chemical-free homeopathic ingredients that cause zero known side effects. Easily administer by mouth or food or water—your itchy pet will thank you, and you'll love his luxurious skin and coat!
Key Benefits
Homeopathic drops promote temporary relief for cats suffering from seasonal allergies and skin allergies.
Detoxifies the skin and improves the coat while relieving constant itching, scratching, gnawing, hair loss, and bald belly.
Chemical-free formula uses the best all-natural, pure ingredients based on years of research, and causes no known side effects.
Non-sedating and safe for all cats including kittens, pregnant, and nursing cats. Easily administer by mouth or through food or water.
Fast-acting and clinically-proven liquid drops are made in the USA and registered with the FDA.
Ingredients
Apis Mellifica, Cantharis, Dolichos, Mezereum, Rhus Toxicodendron, Urtica Urens, Arsenicum Album, Sulphur, Caladium Seguinum, Culex Musca, Lachesis, Pulex Irritans, Sepia, Staphysagria, Hyoscyamus.
| Lifestage | Drops per dose |
| --- | --- |
| KITTENS | 5 drops, 3 times daily |
| ADULT CATS | 10 drops, 3 times daily |
| MULTIPLE CATS | 5 - 10 drops per cat in community water |
| CATS UNDER 1 LB | 1 -2 drops in water, 3 times daily |
Reviews