Homeopet WRM Clear Feline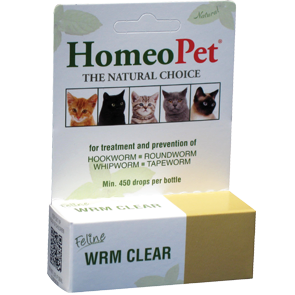 Homeopet WRM Clear Feline
Homeopet WRM Clear Feline

HomeoPet Wrm Clear is a broad spectrum wormer formulated to remove and prevent the infestation of round, hook and tape worms in dogs, cats, puppies and kittens. It is 100% natural, no food withdrawl and safe for all ages.
HomeoPet is a product that is chemical free, safe for dogs, cats, birds, rabbits, hamster and pot bellied pigs of all ages. Manufactured under a FDA registered process. No known side effects from any of our products. Twelve years of researching only the best ingredients from all over the world. All HomeoPet products are liquid and given internally.
More Information
Each 15 ml remedy comes in a 23 ml liquid dropper bottle and may be dosed directly into the mouth, in food/treat or in water/milk. There are approximately 350-375 drops per bottle. For a pet under 20 lbs/10 kg one bottle will last 3-4 weeks, dosing 3 times daily. For a pet 20-100 lbs/10-50 kg, one bottle will last 10-13 days at 3 doses daily.
Ingredients HPUS: Natrum muriaticum 6x
Natrum phosphoricum 6x
Sulphur 6x
Arsenicum album 8x
Nux vomica 8x
Calcarea carbonica 12x
Ferrum phosphoricum 12x
Silica terra 12x
Chenopodium anthelminticum 3x, 3c
Filix mas 3x, 3c
Granatum 3x, 3c
Kamala 3x, 3c
Cina 4x
Spigelia anthelmintica 4x
Teucrium marum 4x
Thymol 4x
Cucubita pepo 2x, 4x
Triticum repens 3x
Naphthaline 5c
In 20% USP alchol in purified water

Directions for Use
Dose remedy directly into mouth, in water, or on food
To treat worms, administer 3 times per day for 14 days
To prevent worms, administer 3 times per day for 7 days
Repeat every 60 days to remove or prevent worms
Dosage for Cats
Kittens - 5 drops, 3 times daily for 14 days to remove worms
Adult Cats - 10 drops, 3 times daily for 14 days to remove worms
Reviews