Chip's Naturals Chicken Chips 16 oz.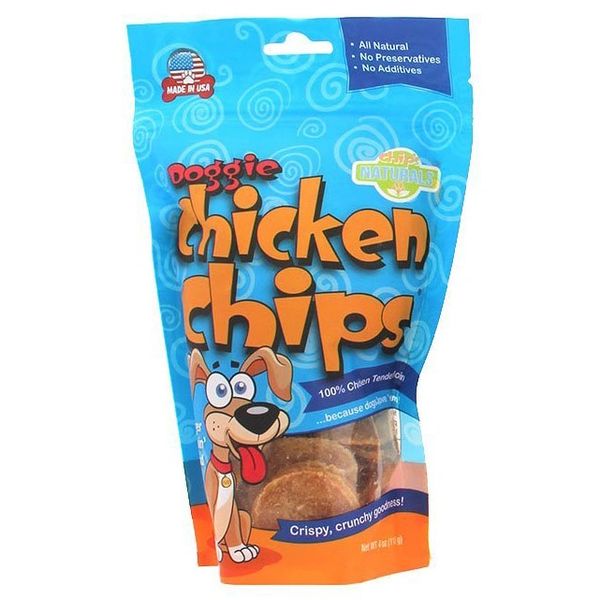 Chip's Naturals Chicken Chips 16 oz.
Our "Original" Doggie Chicken Chips contain the finest quality chicken tenderloin and nothing else. There are only two calories per chip so you can feel good about giving your dog a low calorie, high protein snack. Doggie Chicken Chips are not crunchy like a cookie or chewy like a jerky but crispy like a potato chip. They're dehydrated to lock-in flavor and break apart easily for training. We've never seen a dog turn them down!

Chip's Naturals produces our signature chicken chips in a professional kitchen type facility. In fact, when we have the occasion to host a tour, people often remark that our facility looks like a place where human food snacks would be created.!

IT ALL STARTS WITH THE BEST CHICKEN!
Our Chicken Chips are created from 100% USDA grade A chicken breasts that are harvested locally for us in Florida. Our breasts are delivered once or twice a week (depending on production schedules) on our wholesale food delivery trucks from our suppliers. These are the same breasts that are delivered to the restaurants around us. They are the same high quality, food service grade chicken breasts that restaurant customers expect. Those are the only kind we use in our doggie chicken treats.
Once we have the USDA chicken breasts at our production facility, we trim each individual chicken breast by hand to ensure that only pure chicken breast meat goes into our chicken treats.
No Fillers + No Chemicals + Expert, Loving Preparation =
THE BEST QUALITY PRODUCT FOR YOU AND YOUR PETS!
From there, a proprietary combination of humans and machines working together produce what has been called one of the healthiest chicken-based doggie snack available anywhere.
No Chemicals, No Preservatives…Only 100% pure chicken breast meat prepared naturally!
CHICKEN CHIPS COME IN 3 CONVENIENT RETAIL PACKAGE SIZES
4 OUNCE – 8 OUNCE – 16 OUNCE
Reviews