Liquid Health Joint Purr-Fection for Cats 2oz.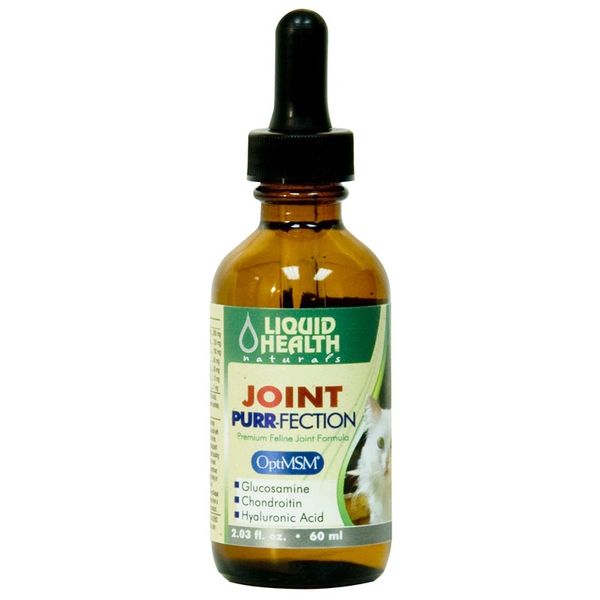 Liquid Health Joint Purr-Fection for Cats 2oz.
Liquid Joint Glucosamine For Cats
Joint Purr-Fection with glucosamine for cats is manufactured by Liquid Health Pets and is one of the leading liquid cat joint supplements manufactured in the USA. It includes glucosamine for cats for better overall cat health. We all want our kittens to grow up into active, healthy cats. In addition to a healthy diet and active lifestyle, an important part of a cat's health is getting the proper cat joint supplements that they need. This is especially true for older cats that may have joint problems or restricted mobility. Please consult with your local vet to see if a liquid cat joint supplement would be beneficial to improving your cat's health.
– Our cat joint supplements are recommended for cats of all sizes
– Easy to administer
– 100% Natural
Additional Product Information:
GreenGrown™ Glucosamine: USP grade glucosamine derived from non-animal sources helps to maintain the synovial fluid that lubricates the joints. Only the best glucosamine for cats and other animals.
Chondroitin Sulfate USP: Not all chondroitin cat joint supplements are of equal quality. Liquid Health uses the same USP grade chondroitin used in its human formulas. Studies have shown that high quality chondroitin has synergistic effects in joint health when used with glucosamine.
Opti-MSM®: Most MSM comes from China. Joint Purr-Fection uses the only U.S. manufactured MSM available. Opti-MSM® is manufactured to 99.9% purity under strict quality control standards. Opti-MSM® serves multiple functions in the body, including strengthening connective tissue. See www.OptiMSM.com for more information.
Hyaluronic Acid: Known as "the moisture molecule," hyaluronic acid can bind up to 1,000 times its weight in water. Due to its water-binding properties, hyaluronic acid can support the lubrication of joints and is beneficial for skin, gum, and eye health as well.
Manganese Chelate: Essential part of the enzyme involved in the synthesis of chondroitin sulfate.
Taurine: Taurine deficiency can cause numerous health-related issues in cats. Because cats secrete taurine through bile acids, they must get this ingredient through food or supplements.
Joint Purr-Fection is one of the leading liquid cat joint supplements manufactured in the USA. Specially formulated glucosamine for cats to support joint function in cats in a delicious organic beef gravy flavor your cat will love!
Liquid Supplement Product Facts

Liquid Health™ Joint Purr-Fection Feline Joint Formula
Directions for Use
• Shake well before administering
• Store at 15-30° c (59-86° f)
• Refrigerate after opening
• Protect from heat, light, and moisture
Administer 1-2 ml daily directly into mouth, using care to see that all is consumed.
Loading dose of twice the recommended amounts listed above may be given for the first week.
| | |
| --- | --- |
| Under 10 lbs | 1 ml |
| Over 10 lbs | 2 ml |
Active Ingredients per 2 ml
Glucosamine Hcl (USP) (corn)
260 mg
MSM (Methyl-sulfonylmethane 99.9%)
120 mg
Taurine
100 mg
Chondroitin Sulfate (USP) (beef)
50 mg
Ascorbic Acid (USP) (preservative)
50 mg
Sodium Hyaluronate (Hyaluronic acid)
10 mg
Manganese (Chelate)
1 mg
Inactive Ingredients – Beef liver powder, Citric acid, Organic beef flavor, Purified water, Potassium sorbate, Vegetable glycerin (USP), Xanthan gum.

*USP indicates that the product meets USP specifications.
• For use in Cats
• Contains NO Sugar, Starch, Salt, Wheat, Gluten, Yeast, Milk, or Soy Derivatives
• Some settling is normal
• As with any natural product, color and taste may vary

Cautions:
Safe use in pregnant animals or animals intended for breeding has not been proven. Consult with your veterinarian before using this product in animals:
with clotting disorders; being treated with anticoagulant medications; diabetes, or any metabolic disorder causing hyperglycemia; history of urinary tract stones. If lameness worsens, discontinue use and contact your veterinarian. Administer during or after the animal has eaten to reduce incidence of gastrointestinal upset. Federal law prohibits the off-label use of this product in ruminants. An examination from a veterinarian is recommended prior to using this product.
Warnings:
• Do not purchase if seal is broken
• For animal use only.
• For animal use only. Keep out of reach of children and other animals. In case of accidental overdose, contact a health professional immediately.
Reviews