Momentum Carnivore Nutrition Buffalo Tripe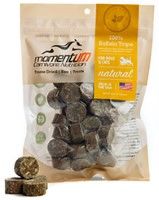 Momentum Carnivore Nutrition Buffalo Tripe
100% green (grassfed) tripe. This meat retains the digestive enzymes and good bacteria, which aid in digestion, improve metabolism and boost the immune system.

Buffalo Tripe Guaranteed Analysis:
•Protein - 56.75%
•Fat - 28.63%
•Fiber - 0.12%
•Moisture - 6.95%
Ingredients - 100% Green Buffalo Tripe
Net Weight 4 oz
Serve buffalo tripe dry as a treat, training reward, or moisten to supplement a meal
Made in the U.S.A.
Reviews