Momentum Carnivore Nutrition Turkey Nibblets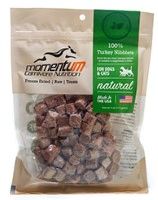 Momentum Carnivore Nutrition Turkey Nibblets
Turkey thigh meat is a great source of protein & phosphorus, which helps in the formation of bones/teeth and cell/ tissue repair. The small size is perfect for small pets and training.

Turkey Nibblets Guaranteed Analysis:
•Protein - 90.42%
•Fat - 4.77%
•Fiber - 0.01%
•Moisture - 2.51%
Ingredients - Turkey breast, turkey liver
Net Weight 4 oz
Serve turkey nibblets dry as a treat, training reward, or moisten to supplement a meal
Made in the U.S.A.
Reviews