Pet Kelp Well-Being Formula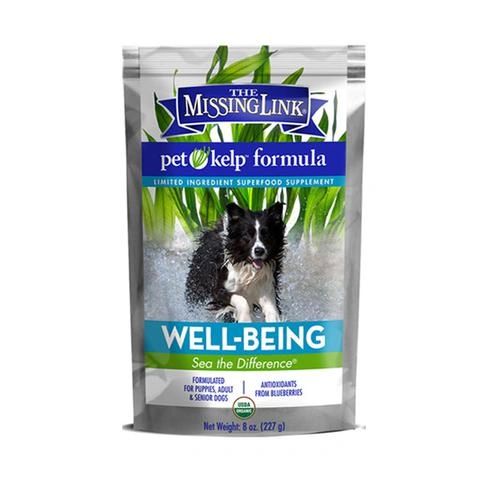 Pet Kelp Well-Being Formula
Pet Kelp Well-Being Formula

Pet Kelp is a seaweed-based nutrition booster for dogs and cats. Designed to be added to food, their powdered seaweed formulas provide high quality vitamins and minerals that pets might need to fill in any nutritional gaps. Beneficial for any pet who might benefit from a multi-vitamin supplement, Pet Kelp Well-Being Formula includes antioxidant rich blueberries to keep free radicals at bay.
Directions for use: Give Pet Kelp daily with food. If using dry food, mix Pet Kelp with enough water to make a liquid mixture and pour mixture over the food. Store opened bag in a cool, dry place.
Under 9 lbs - 1/4 tsp
9-19 lbs - 1/2 tsp
20-49 lbs - 1 tsp
50-89 lbs - 2 tsp
90+ lbs - 3 tsp
Each package contains approximately 80 teaspoons of Pet Kelp.
Ingredients: Organic Dried Kelp, Organic Flax Seed (Source of Omega Fatty Acids), Organic Blueberries.
Guaranteed Analysis (per 2 teaspoons):
Crude Protein (min) 6%
Crude Fat (min) 5%
Crude Fiber (max) 8%
Moisture (max) 9%
Available in 8 oz bag.
**These statements have not been evaluated by the Food and Drug Administration. This product is not intended to diagnose, treat, cure or prevent any disease.**
Reviews