Ark Naturals Breath-Less Plaque-Zapper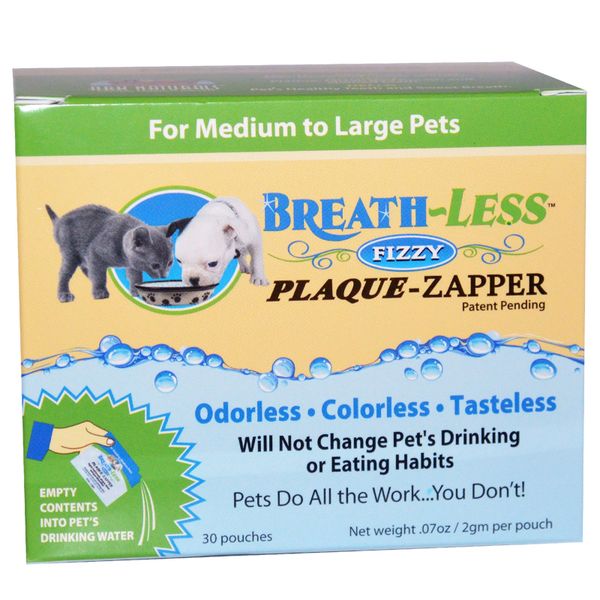 Ark Naturals Breath-Less Plaque-Zapper
Ark Naturals Breath-Less Fizzy Plaque-Zapper fights plaque, tartar, bad breath and stained teeth! Veterinarian recommended and formulated.

Plaque-Zapper contains naturally available enzymes that are activated by mouth saliva. As your pets drink from their water bowl Ark's Plaque Zapper...Zaps harmful mouth bacteria and their clinically tested enzymes stop plaque from sticking to teeth. Will not change your pet's drinking or eating habits.

All natural: colorless, odorless, tasteless
No Animal Proteins
Wheat-Free, Corn-Free, Yeast-Free
Naturally Healthy and Safe Ingredients
Human Grade Ingredients
Made in the USA! (Made in FDA/USDA Facilities)
NASC Approved

Ark Natural's goal is to address the care needs of companion animals by formulating a line of products, using only the finest human grade raw materials. Their products are formulated by professionals and are based on the best and most accurate scientific available at this time. Ark Naturals pledge to continue their efforts to not only produce the leading line of pet care nutraceuticals, but to be aware that the pursit of scientific data regarding prevntive health care is a continuing process.

Thirty 2 gm/.07 oz. pouches per box.

-------------------------------------------------------------------------------- Active Ingredients: 100mg: Lysozyme, Glucoxidase, Amylase, Papain, Amyloglucosidase, Peptizyme, Lactoferrin.

Inactive Ingredients:
Maltodextrin, Citric Acid, Sodium Bicarbonate.

No Anthium Dioxide, Chlorine Peroxide, Chlorine Dioxide.

Product Facts: For use by Dogs and Cats. Recommended to support dental health and control plaque, tartar and bad breath.

Recommended Use: Empty packet in bowl of fresh drinking water. Fizz lasts 3-5 seconds. Enzymes remain active for 6-8 hours. For cats who do not drink water from a bowl, empty packet onto cat's wet food.

Therapeutic: 2x daily for 4-6 weeks.
Maintenance: Use 1x daily - 3x per week.

Effective on its own or it can be combined with Breath-Less Brushless-Toothpaste. Results within 4-6 weeks of continual use.

Cautions: If animal's condition worsens or does not improve, stop product administration and consult your veterinarian.
Reviews