Raw Bistro Bistro Stix Grass-Fed Beef Liver, Yam + Organic Flaxseed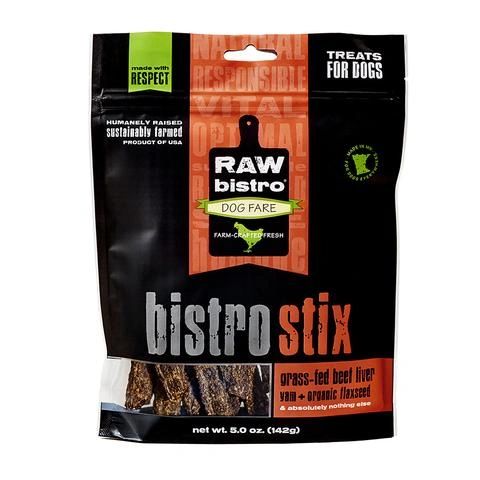 Raw Bistro Bistro Stix Grass-Fed Beef Liver, Yam + Organic Flaxseed
Raw Bistro Bistro Stix Grass-Fed Beef Liver, Yam + Organic Flaxseed

Raw Bistro's Beef Liver & Yam Bistro Stix™ are crunchy, stick-shaped treats dehydrated at low temperatures to preserve vital nutrients. These treats combine the nutrional powerhouse grass-fed beef liver, yams and organic flaxseed, offering all 10 essential amino acids, the essential Omega-3 fatty acid ALA, vitamins A, D & all the Bs; it's also a rich source of important trace minerals zinc, iron and potassium.
beef liver & yam bistro stix™ are:
beef liver from 100% grass-fed cattle pasture-raised on Midwest family farms without antibiotics, added hormones or grains – ever!
organic ground flaxseed rich in the essential Omega-3 fatty acid ALA to support a healthy heart, skin & coat
USDA inspected & approved human-grade ingredients
produced in small, custom batches at our own hyper-clean facility in Cannon Falls, Minnesota.
Beef Liver & Yam Bistro Stix™ are healthful and fetchingly tasty treats for dogs of all ages and are easily broken into appropriate size pieces for dogs of all sizes. Great for training or anytime treating. Your dog is sure to love them!
Ingredients: beef liver, yams, organic flaxseed
Available in: net wt. 5.0 oz. (142g) resealable stand-up pouch
Reviews