Alaska Naturals Salmon Oil 8oz.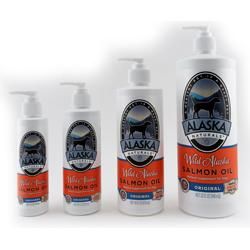 Alaska Naturals Salmon Oil 8oz.
Your source for natural, USA-made, chemical-free salmon oil pet products. A quality-assurance team is involved from the source to the shelf using sophisticated processes and genuine concern for producing the very-best pet supplements and snacks.
Alaska Naturals Salmon Oil
Provides a rich source of natural Omega-3 essential fatty acids that supports and promotes healthy skin and glossy coat, a healthy immune system, cardiovascular health and healthy brain development. And, our oils are stabilized with natural rosemary extract to maintain freshness and taste.

Benefits:
•Helps maintain healthy immune system.
•Promotes healthy skin, glossy coat.
•Supports cardiovascular health.
•Promotes healthy brain activity.


Reviews