Fido-Vite Sportz Dog 15 lb.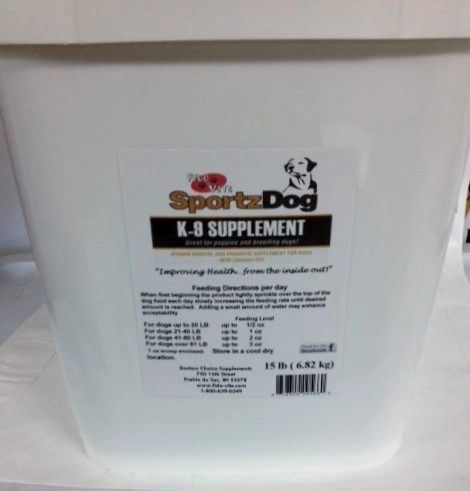 Fido-Vite Sportz Dog 15 lb.
Fido-Vite Sportz Dog 15 lb.

Description
Fido-Vite Sportz Dog has been formulated to improve intestinal health.The probiotics, digestive enzyme and dietary nucleotides help support overall diet nutrient utilization and provide key nutrients important to hard working sport dogs during high physical demand or gestational and lactation reproduction requirements.
Sportz Dog contains high levels of the DHA omega-3. Of the three omega-3s (ALA, EPA, DHA) DHA has been shown to be by far the most important. Sportz Dog contains no flaxseed or flaxseed oil. Flaxseed is a source of omega-3 (ALA), but flaxseed contains phyto-hormones that may negatively affect breeding dogs. For this reason, we DO NOT use flaxseed in any Fido-Vite Products. DHA is very beneficial to gestational and lactating females and their puppies as well as dogs in sport.
Sportz Dog also contains glucosamine/chondroitin, and highly available zinc and manganese for joint health. It also contains yucca and DHA omega-3 to help with inflammation.
Coconut oil is added for muscle glycogen and L-Carnitine enhances the ability of muscle to utilize energy from long chain fatty acids.
Sportz dog also contains probioitics and prebiotics for improved intestinal health.
Fido-Vite Sportz Dog contains kelp that has been shown to reduce rectal temps of animals under stress, while yucca increases blood oxygen by absorbing intestinal ammonia. Highly available iron and copper along with dietary nucleotides keep red blood cells healthy. More oxygen to the brain means better focus.
For dogs up to 20 lbs – 1/2 oz daily
For dogs up to 40 lbs – 1 oz daily
For dogs up to 80 lbs – 2 oz daily
For dogs over 80 lbs – 3 oz daily
Start slowly – Each day increasing the feeding rate until desired level is reached. You may double the feeding rate for dogs under stress. Adding a small amount of water may enhance acceptability.
1 oz scoop enclosed.
Store in a cool dry location.
Reviews