Honest Paws CBD Calming Bites with Roasted Peanut Butter Flavor 9.5 oz. ORGANIC FULL SPECTRUM HEMP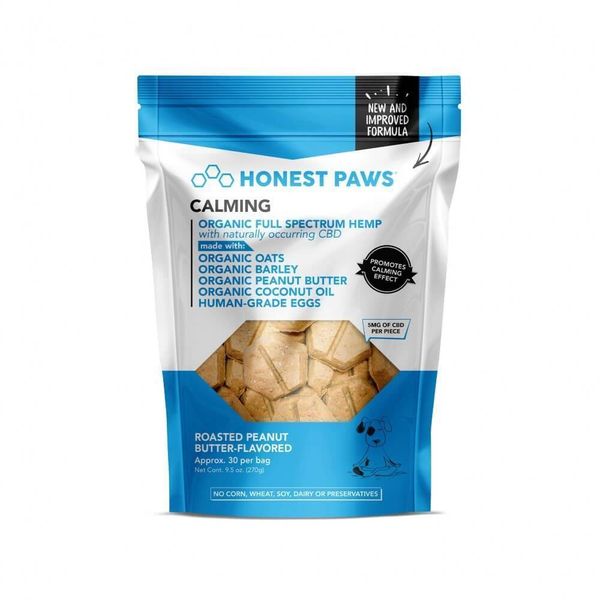 Honest Paws CBD Calming Bites with Roasted Peanut Butter Flavor 9.5 oz. ORGANIC FULL SPECTRUM HEMP
Honest Paws CBD Calming Bites with Roasted Peanut Butter Flavor 9.5 oz. ORGANIC FULL SPECTRUM HEMP

Made with Organic Full Spectrum Hemp with Naturally Occurring CBD, these melt-in-your-mouth morsels contain only the best, non-GMO, all-natural ingredients. 
Additionally, you can use the newly integrated scoreline to break your bite into two perfect halves, making it easier to give your dog the right amount! Keep your furbaby's stress levels in check with these delectable bites that are guaranteed to keep your pup calm and collected
CBD Dog Bites
Once your pup becomes adjusted to the CBD oil, pet owners may opt for one of our CBD dog bites.
These cannabis dog bites are an easy way for pet owners to ensure that their fur baby is reaping all of the benefits that CBD has to offer through a yummy treat that your pup is sure to love.
We recommend these tasty peanut butter-flavored CBD bites for dogs. Our peanut butter-flavored calming pet bites will help promote a care-free, happy life. Our calming chews are also great for restless sleepers and pups who get a bit too excited in public. Trust us, these chews can really help avoid some embarrassing situations.
Additionally, you may want to check out our turmeric-flavored bites that support healthy bones and joints.
If your pup suffers from seasonal allergies and/or skin irritations, you may be interested in our Restore CBD dog bites. These coconut-flavored treats may play a role in helping with seasonal allergies and other skin sensitivities.
For our smaller or older dogs, let us introduce our 
CBD dog chews for joint support.
 These soft chews are ideal for the dog that is in need of bone and joint support.
CBD for Dogs: Knowing The Product 
We want to briefly mention that, with the increasing popularity of CBD products, pet owners will see a plethora of available products online. We hope that you give Honest Paws a shot. However, if you decide to purchase elsewhere, we want you to be aware of a few things, primarily that not all CBD is created equally.
As with most things in life, you get what you pay for. Pet owners will likely find cheaper versions of CBD oil, but this doesn't mean that the quality is still up to par. Be sure you are purchasing CBD oil products from a reputable company who sources from USA-grown hemp.
Also, make sure that the products are 100% natural, soy-free, lab-tested, and non-GMO.
All-Natural 
If the CBD oil is not 100% natural, it is highly probable that it contains pesticides, fungicides, or solvents. In other words, the oil can potentially do more harm than good if the product isn't high quality. If the CBD isn't 100% natural and is potentially contaminated with pesticides, fungicides, or solvents, its positive aspects are completely diminished.
Lab-Tested 
Another important part of choosing the right CBD product is making sure that it is lab-tested. The manufacturer should be able to provide a certificate of analysis for the CBD product. This document is a lab report that lists out the chemical ingredients in a product. You'll want a certificate of analysis because there are some companies that sell products that contain only very small traces of CBD and yet still sell it as a CBD product. It makes you wonder what else is in the liquid substance that you are putting in your dog's food, if so little of it is actually CBD.
Reviews