Herbsmith July Third Soft Chews- Immediate Calming for Dogs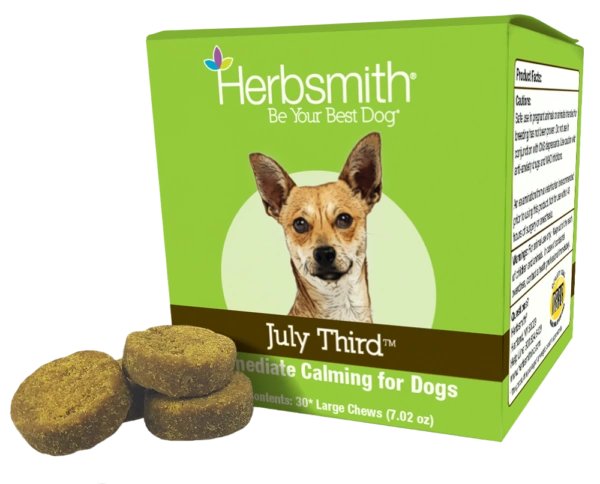 Herbsmith July Third Soft Chews- Immediate Calming for Dogs
July Third™ is formulated to help dogs maintain a normal, content, and relaxed disposition in times of environmental stress and in situations that may cause anxiousness, such as changes in your pet's daily routine, separation, noise from fireworks and thunderstorms, trips to the groomer, meeting strangers, traveling, or boarding.
With valerian, chamomile, thiamine, L-Tryptophan, and passion flower, July Third helps keep your pet calm by promoting a sense of relaxation and supporting a normal emotional balance. July Third helps dogs maintain a normal and relaxed disposition while also helping them to cope with external stresses.
Use July Third the day before or the day of those situations that may cause stress and tension for a short-term immediate effect. For dogs that need long-term, cumulative calmness, we recommend using Herbsmith's Calm Shen.
July Third is Available in:
30 count Small Chews

30 count Large Chews
Dosing may be repeated every 12 hours
Small Chews

< 10 lbs……………………………………….1 chew
10 – 19 lbs………………………………….2 chews
20 – 30 lbs………………………………….3 chews
Large Chews

30 – 59 lbs……………………………2 chews
60 – 99 lbs……………………………3 chews
> 100 lbs……………………………..4 chews
For animal use only. Keep out of reach of children and animals. In case of accidental overdose, contact a health professional immediately. Store in a cool, dry place.
Cautions:
Safe use in pregnant animals or animals intended for breeding has not been proven. Do not use in conjunction with CNS depressants. Use caution with anti-anxiety drugs and MAO inhibitors. An examination from a veterinarian is recommended prior to using this product. Not for use within 48 hours of surgery or anesthesia.
Ingredients
For use in dogs only. Recommended to calm the anxious, hyperactive, or clingy dog due to environmentally induced stress or changes in everyday routine.
Active Ingredients:
Ingredient
Chamomile
Tryptophan
Passion Flower
Thiamine Monohydrate
Magnesium
Valerian
Small (Per 2 Chews)
42 mg
34 mg
28 mg
28 mg
22 mg
14 mg
Large (Per 2 Chews)
150 mg
120 mg
100 mg
100 mg
80 mg
50 mg
Inactive Ingredients:
Rice flour, sunflower lecithin, rice bran, flaxseed, oat groats, vegetable glycerin, salmon meal, cod liver oil, fruit juice, natural grain dextrin, sorbic acid, brewers yeast, vegetable oil
Reviews