Herbsmith Microflora Plus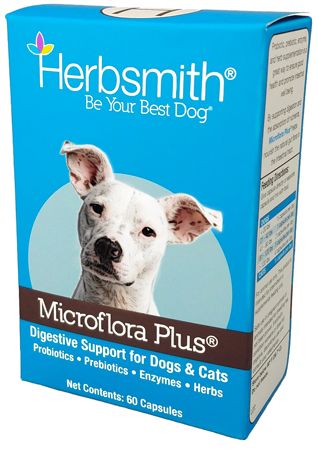 Herbsmith Microflora Plus
Microflora Plus
Microflora Plus for Digestion is a complete combination of probiotics, prebiotics, digestive enzymes, and herbs that support proper digestion and bowel health.
Microflora Plus aids in reducing occasional loose stools due to environmental stress or changes in diet. Use Microflora Plus as a digestive aid to help maintain a healthy intestinal tract and gut flora.
Microflora Plus promotes proper digestion and bowel health.
Directions for Use
Give capsule directly or separate capsule and mix with food.
For Dogs:

< 20 lbs……½ capsule/day
21-40 lbs….1 capsule/day
41-80 lbs….2 capsules/day
> 81 lbs……3 capsules/day
For animal use only. This product is intended for intermittent or supplemental feeding only.
Safe use in pregnant animals or animals intended for breeding has not been proven. If animal's condition worsens or does not improve, stop product administration and consult your veterinarian.
Ingredients
*per two capsules
Probiotics – Beneficial Microorganisms for GI health Bacillus and Lactobacillus blend……. 10 Billion CFU
Prebiotics – Assist in Probiotic GrowthFOS…………………………………………………..100 mg
Enzymes

– Break down proteins, starches, cellulose, and fats
Amylase…………………………………………..3750 SKB/g
Protease………………………………………….5625 HUT/g
Lipase……………………………………………..750 FIP/g
Cellulase…………………………………………600 CU/g
Bromelain………………………………………..22.5 GDU/g
Papain……………………………………………..3.75 TU/mg
Herbs – Support bowel healthCinnamon, Ginger, and Licorice…….270 mg
HUT= hydrolysis of 8,250µg tyrosine from hemoglobin/min/g
GDU = liberation of 15.8µg tyrosine from casein/min/g
TU = liberates 5µg tyrosine from casein/min/g
SKB = dextrinization of 5,000g of starch/hour/g
CU = hydrolysis of 200 b-1,4 glucosidic bonds from carboxymethylcellulose/min/g
FIP = liberates 2,000µmoles fatty acid from olive oil/min/mg
Ingredients: (dried fermentation products of Aspergillus oryzae, Rhizopus oryzae, and Trichoderma longibrachiatum [T. reesei], pineapple stem, papaya), FOS (Fructooligosaccharides), Cinnamon Bark, Ginger, Licorice, dried Lactobacillus acidophilus fermentation product, [dried fermentation products of Bacillus subtilis and B. licheniformis, Maltodextrin, sodium silico aluminate (dessicant)], stearic acid
Reviews