Herbsmith Milk Thistle - Liver Support for Dogs and Cats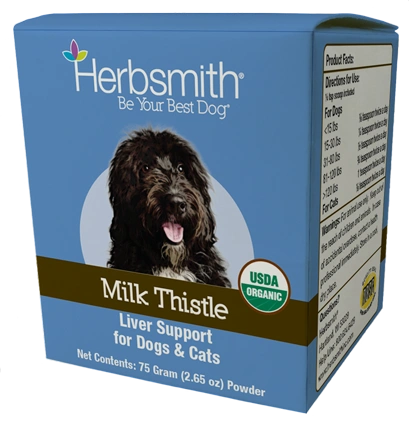 Herbsmith Milk Thistle - Liver Support for Dogs and Cats
Milk Thistle

Milk Thistle helps to maintain normal, healthy liver function by supporting the body from exposure to heavy metal or environmental toxins. Milk Thistle helps with healthy waste elimination from the body and supports normal hepatic function.
Milk Thistle has also been shown to support metabolic functioning of the liver and normal cleansing of the liver from impurities. Herbsmith's organically grown Milk Thistle supports normal detoxification and normal function and health of the liver.
Pair Milk Thistle with Clear AllerQi™ for extra support during allergy season.
Milk Thistle is available in:
75g powder

(One month supply*)
150g powder

(Over two month supply*)
500g powder

(Nearly eight month supply*)
*All supply estimates based on 30-80 lb dog.
Note: Milk Thistle is half the daily dose of our other herbal blends.
Directions for Use
For Dogs:
< 15 lbs ……⅛ tsp. twice a day
15 – 30 lbs……¼ tsp. twice a day
31-80 lbs…..½ tsp. twice a day
81-120 lbs…¾ tsp. twice a day
> 120 lbs…..1 tsp. twice a day
For Cats……⅛ tsp. twice a day
Cautions:
Not to be used in pregnant pets. If animal's condition worsens or does not improve, stop product administration and consult your veterinarian. An examination from a veterinarian is recommended prior to using this product. Not for use within 48 hours of surgery/anesthesia.
Ingredients
Ground Milk Thistle (Supports healthy liver function)

Reviews