Herbsmith Smiling Dog Treats 3 oz- Dry Roasted Beef Liver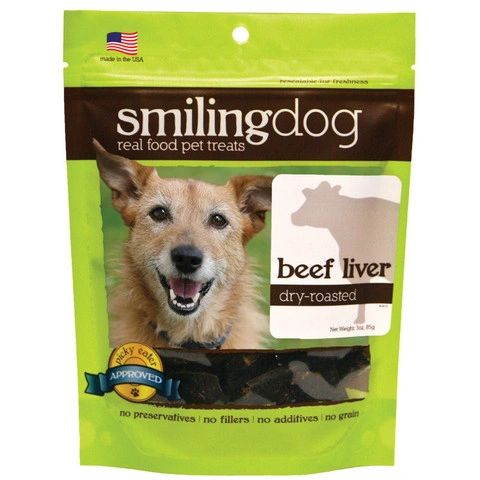 Herbsmith Smiling Dog Treats 3 oz- Dry Roasted Beef Liver
Smiling Dog treats are different. Made with no grain, fillers or artificial preservatives, Herbsmith's Smiling Dog treats help dogs live naturally.
Dogs are scavenger carnivores, designed to primarily eat and digest meat with some vegetables and fruits or little to no grain. That's why Smiling Dog has real food treats made with simple basic ingredients based on a dog's optimal diet.
At Herbsmith, we feel that pets should not simply eat to live… they should eat to thrive! The right diet can bring your dog into a whole new state of health and wellness.
grain-free

no fillers, additives or artificial preservatives

sourced & made in the U.S.A.
Food Energetics
At Herbsmith, we know that everything you feed your dog affects their body. Every food has energetics that can influence the way the body functions – positively or negatively.
Herbsmith has searched high and low for the best ingredients possible to cater to what your dog's body really needs. The older "cold" animal that needs joint support should be fed "warming" foods like chicken or turkey. The allergic or high-arousal "hot" animal should be fed "cooling" foods like duck and rabbit. The well-balanced animal should be fed "neutral" foods like beef and pork.
Give your pets healthy treats that do good things for their bodies, and see them smile!
Direction for Use
Feed as a treat.
Ingredients
beef liver, lemon juice
Guaranteed Analysis:
- Crude Protein: 47% min
- Crude Fat: 5% min
- Crude Fiber: 19% max
- Moisture: 15% max
Reviews