Homeopet Feline Anxiety Relief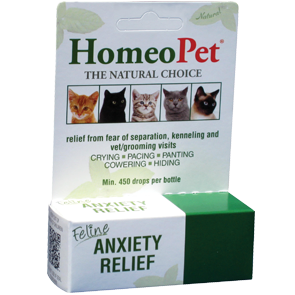 Homeopet Feline Anxiety Relief
Homeopet Feline Anxiety Relief

| | |
| --- | --- |
| * | Homeopathic formula helps support normal calm in cats |
| | |
| --- | --- |
| * | Safe, gentle and 100% natural formula |
| | |
| --- | --- |
| * | Use for rescue cats, veterinarian visits, new pet introductions, and travel |
HomeoPet Anxiety Relief is a natural homeopathic formula that helps promote normal calmness in feline companions. Ideal for travel, kenneling, veterinarian or groomer visits, and introducing new pets into the family. Easy-to-dose liquid drops can be given directly or added to food or water. Made in the USA.
Directions
| | |
| --- | --- |
| Pets | Dosage |
| Kittens under 1 lb | 2 drops in water, 3 times daily |
| Kittens over 1 lb | 5 drops, 3 times daily |
| Adults cats | 10 drops, 3 times daily |
Unless otherwise indicated, drops may be dosed directly into mouth, on food/treat, or in water. May also be dropped around bedding area 3-5 times daily.
Ingredients: Aconitum nap 10x, 200c, 1 M, Arg nit, Arsenicum alb, Gelsemium 6c, 30c, 200c, Avena, Passiflora, Scutellaria, Valeriana 4x, 7x, Calc phos, Causticum, Hyoscyamus, Nat carb, Silica terra 30c, 200c, Ignatia, Phos 6c, 30c, 200c, 1M, Lycopodium, Staphysag 6c, 30c, Pulsatilla nutt 30c, 200c, 1M, Stramonium 200c in 20% USP alc. in purified water.
Read full label instructions before each use. Contact veterinarian if problems persist.
Reviews