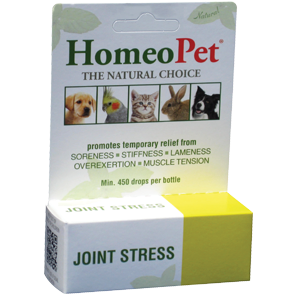 Homeopet Joint Stress
Homeopet Joint Stress

Provide your pet with relief from pain and soreness by using Homeopet Joint Stress. This easy-to-use liquid provides fast-acting temporary relief from joint stiffness and soreness, muscle tension form overexertion, pain in the lower back and pain in the hop and joint areas.
Features: Offers temporary relief from
Joint stiffness and soreness
Muscle tension from overexertion
Lower back pain
Hip and joint pain


Intended For: Small animals
Includes: 1 Bottle
Health Consideration: Hip and Joint
Dimensions: 4.68 in x 3.25 in x 1.25 in


Cautions: Store at room temperature, out of direct sunlight, and away from strong odors.


Directions:
Under 20 lb/10 kg: 5 drops
21-60 lb/ 10-30 kg: 10 drops
61-100 lb/ 30-45 kg: 15 drops
Over 100 lb/45 kg: 20 drops

In acute cases (those with sudden onset), the doses can be given every 15 minutes, up to 4 doses. For cases that are not acute (chronic, long term problems), one dose 3 times daily.

Once a response is seen, administration should be reduced to 2 times daily and eventually once daily. If reduction causes symptoms to worsen, original dosing may be continued a little longer before reducing. If a remedy is working well and dosing is not reduced, an aggravation of symptoms from overuse may occur. Stopping the remedy for 3 days will reverse the symptoms, and then treatment can begin as if using for the first time, weaning down as mentioned above.

Under 1 lb: All pets under 1 lb should be dosed by putting 2 drops in the drinking water daily.
Reviews