Momentum Carnivore Nutrition Chicken Tenders w/Sea Kelp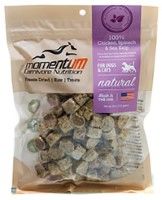 Momentum Carnivore Nutrition Chicken Tenders w/Sea Kelp
A great source of protein. The added spinach and kelp also provide essential nutrients, promotes digestive health, helps with bad breath, fights infection and builds the immune system.

Chicken Tenders with Sea Kelp Guaranteed Analysis:
•Protein -89.46%
•Fat - 7.52%
•Fiber - 0.56%
•Moisture - 3.44%
Ingredients - Chicken tenders, sea kelp, spinach
Net Weight 4 oz
Serve chicken tenders dry as a treat, training reward, or moisten to supplement a meal
Made in the U.S.A.
Reviews