PetSafe Rechargeable In-Ground Fence™ Receiver Collar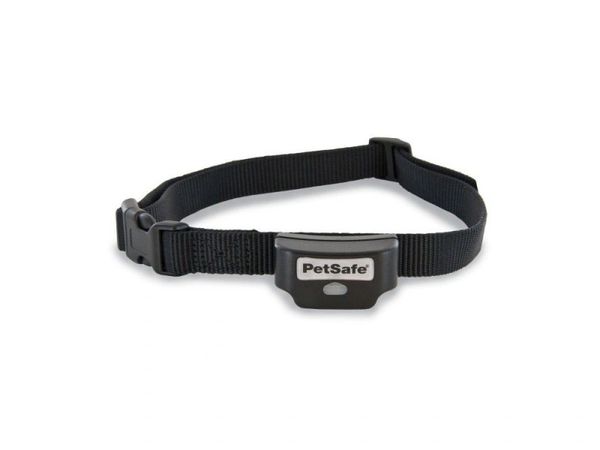 PetSafe Rechargeable In-Ground Fence™ Receiver Collar
Rechargeable In-Ground Fence™ Receiver Collar
Description
Introducing our new rechargeable receiver collar for PetSafe in-ground fence systems! This waterproof receiver collar has 4 levels of staticcorrection to match the sensitivity of your pet plus tone-only mode for training.
Compatible with these PetSafe In-Ground Fence systems: PIG00-13661, PIG00-10777, PIG00-10773, PIG00-11007, and PRF-3004W. Not compatible with PetSafe wireless, PetSafe UltraSmart, or Innotek systems.
Have a question about this product? We're happy to help! Send us your question now.
Features
Ergonomically-designed collar is smaller, lighter, and more comfortable
Pass-through receiver allows you to use any length of collar strap that is non-metallic and 3/4-inch wide
For dogs 5 pounds and up
Fits neck sizes 6-26 inches
Tone-only mode alerts your pet with a beep
Add an unlimited number of pets with additional in-ground receiver collars
Waterproof collar submersible up to 5 feet
Rechargeable battery (built-in; non-replaceable)
Charges in 2-3 hours
Compatible with PetSafe in-ground fences except UltraSmart® Rechargeable In-Ground Fence™ (PIG00-13619) and YardMax® Rechargeable In-Ground Fence™ (PIG00-11115)
Also compatible with the Indoor Pet Barrier Transmitter (PIRF-100) to protect your pet indoors
System Includes
Receiver Collar
Receiver Charger
Short and Long Contact Points
Test Light Tool
Contact Point Wrench
Operating Guide
Reviews