PetSafe Wireless Pet Containment System™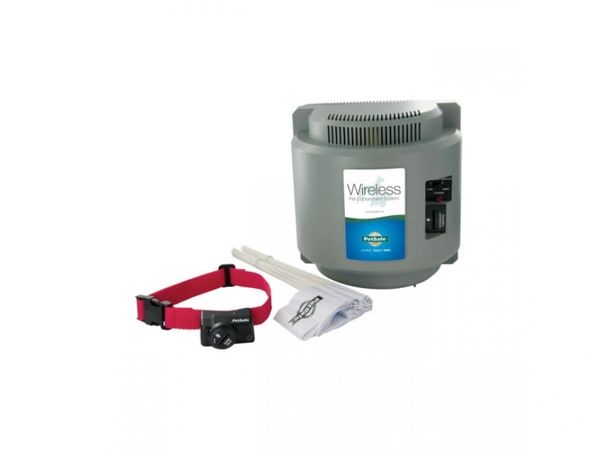 PetSafe Wireless Pet Containment System™
Wireless Pet Containment System™
Description
Trusted and true, our original Wireless Pet Containment System™ keeps pets happier while you breathe easier. A simple signal from a small unit in your home to your dog's collar is all it takes. They learn their new yard boundaries quickly and comfortably, and the collar will remind them with a tone or static correction if they forget. Before you know it, it's all happy playing and no random straying. Covering an area up to ½ acre, it's portable, requires no buried wires, and sets up in 1-2 hours.
Have a question about this product? We're happy to help! Send us your question now.
Features
Portable wireless system sets up in 1-2 hours
For dogs 8 pounds and up
Fits neck sizes 6-28 inches
5 adjustable levels of static correction
Tone-only mode alerts your pet with a beep
Automatic safety shut-off: correction stops after 30 seconds
Covers an adjustable circular area up to 1/2 acre (180 feet in diameter)
Expand containment size with additional wireless transmitters
Add an unlimited number of pets with additional wireless receiver collars
Waterproof receiver collar
Collar uses PetSafe RFA-67 battery (included)
Also works with Stay + Play Wireless Fence® and Stay + Play receiver collar
Part Numbers: 300-089, 650-231, RFA-374, 402-855, S402-855
More Information
Spend less time fussing over installation and more time playing with your pup! Short training sessions will have your pets aware of their limits quickly. Plus, our waterproof collars offer 5 levels of static correction (and a tone-only mode) for customized reinforcement based on your dog's temperament. And for trips, the unit is easily portable – just plug it into an outlet! Cover a maximum of 180 feet in diameter or 90 feet in radius, with a minimum of 10 feet in diameter or 5 feet in radius. Plus, you can combine it with additional transmitters to expand your pet's play area.
System Includes
Wireless transmitter with power adapter
Receiver collar with RFA-67D battery
Long contact points for long-haired dogs
Test light tool
Operating and training guide
50 boundary training flags
Reviews